NetSuite helps organisations across industries grow with powerful new innovations
New Commerce, Global Tax Management and Analytics Capabilities Help Organisations Adapt to Change and Successfully Grow and Scale
SuiteConnect West, 25 October 2018—Oracle NetSuite today announced a series of new innovations to help organisations across industries grow revenues, expand internationally and empower business users. The new commerce, financial management and analytics capabilities help organisations take advantage of the NetSuite platform to exceed customer expectations, enable international expansion and respond quickly to vital business needs.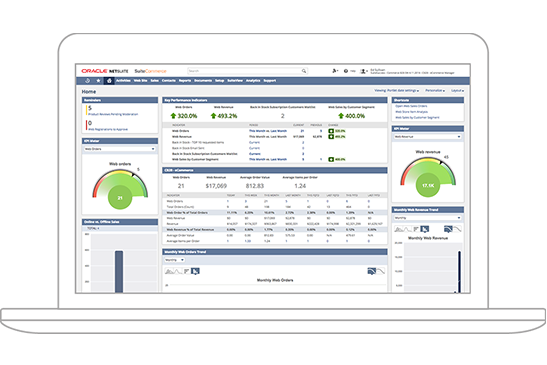 Today's business environment is more challenging than ever. Competitors on all sides are closing in with new products and services, new business models and innovative customer experiences. Commerce has become mobile, social and always-on, as shopping, spending and sharing happens 24x7. Rules and regulations governing data privacy and taxes are constantly changing. Customer expectations have never been higher. Size and scale are no longer an automatic advantage. New technologies continue to change the rules. And the pace of change is accelerating on all fronts. The latest innovations from NetSuite help organisations adapt to these changes and successfully grow and scale.
"For many entrepreneurs and business owners it can often feel as though the only constant is change, but there are many things that have stayed the same including the mandate for growth," said Evan Goldberg, executive vice president of development, Oracle NetSuite. "We work with thousands of organisations from different industries to help them stay focused on successfully growing and scaling their business amidst all of the change. This gives us a unique understanding of businesses across all sectors and we use those insights to continually enhance the NetSuite platform."
The latest NetSuite updates include:
Commerce: The latest innovations within SuiteCommerce include new customer engagement, SEO and marketing optimisation capabilities as well as a series of visual and interactive extensions that help marketers deliver a personalised and continuous shopping experience.

New themes to support B2B and B2C ecommerce sites for specific industries: Themes are optimised for performance, engagement and conversion and are fully responsive to provide a consistent experience no matter how shoppers browse the store.
New extensions: Allow customers to quickly and easily expand their stores with new capabilities such as blogs, gift wrap and message feature, size chart and testimonials.
General availability of merchandise hierarchy: Allows retailers to organise and display merchandise and provides a reporting structure of how sales and inventory of product are tracked and managed. This enables merchants to gain deeper insights into category sales and improve inventory planning.
Google tag manager editor: SuiteCommerce and SuiteCommerce Advanced sites can use SuiteCommerce Google Tag Manager Editor to connect their SuiteCommerce site to Google Tag Manager and to help manage third-party tags, like Google Ads and Facebook Pixel, without having to edit site source code.
Advanced email templates: Ready to use email templates can be branded for ecommerce emails, such as order notifications, digital delivery notifications and other notifications including password recovery.
New SuiteSuccess edition of SuiteCommerce: Enables rapid adoption and return on investment by removing the complexities and costs that surround successful commerce implementations.

Global Tax Management: To help organisations expand internationally, SuiteTax can simplify global tax calculations through support for nearly any tax rule, anywhere in the world. With SuiteTax, customers are able to calculate sales taxes in 140 different countries, including complex tax regimes such as China, India and Brazil. Tax rates can be automatically updated and users will be able to leverage out-of-the box reporting capabilities to quickly and easily drill down into every tax component so they know exactly how tax on each transaction was calculated.
Analytics: To help end-users quickly and easily get the answers they need to be successful, SuiteAnalytics embeds powerful analytics within existing business processes and provides an intuitive graphical toolset that makes it easy to explore and visualise data. By eliminating the need for developers and IT to deal with the complexities of separate reporting tools, business intelligence systems or data warehouses, SuiteAnalytics enables end users to quickly and easily get real-time business insights from across every area of the enterprise.
The latest additions to the NetSuite platform extend NetSuite's commitment to helping organisations across the world grow, scale and adapt to change. NetSuite recently announced new industry innovations to help European businesses accelerate growth as well as new localised product capabilities and an expanded in-country teams for France and Germany.
About Oracle NetSuite
For more than 20 years, Oracle NetSuite has helped organisations grow, scale and adapt to change. NetSuite provides a suite of cloud-based applications, which includes financials / Enterprise Resource Planning (ERP), HR, professional services automation and omnichannel commerce, used by more than customers in countries and dependent territories.
For more information, please visit http://www.netsuite.co.uk.
Follow NetSuite's Cloud blog, Facebook page and @NetSuiteEMEA Twitter handle for real-time updates.
About Oracle
The Oracle Cloud offers complete SaaS application suites for ERP, HCM and CX, plus best-in-class database Platform as a Service (PaaS) and Infrastructure as a Service (IaaS) from data centres throughout the Americas, Europe and Asia. For more information about Oracle (NYSE:ORCL), please visit us at oracle.com.
Trademarks
Oracle and Java are registered trademarks of Oracle and/or its affiliates.
Safe Harbor
The preceding is intended to outline our general product direction. It is intended for information purposes only, and may not be incorporated into any contract. It is not a commitment to deliver any material, code, or functionality, and should not be relied upon in making purchasing decisions. The development, release and timing of any features or functionality described for Oracle's products remains at the sole discretion of Oracle.