NetSuite launches CHOICE into the digital age
Choice Replaces Multiple On-Premise Applications With NetSuite Cloud to Support Digital Growth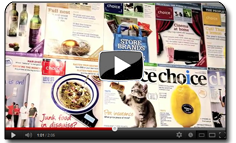 Sydney, Australia—JULY 3, 2012—NetSuite Inc. (NYSE: N), the industry's leading provider of cloud-based financials / ERP software suites, today announced that CHOICE, Australia's leading independent consumer body, has implemented NetSuite for its core ERP functions of finance and CRM, to better support its transformation into a digital publishing business. NetSuite replaced multiple on-premise solutions that CHOICE had deployed for the past 10 years.
NetSuite allows publishers like CHOICE to run their media business more effectively, with flexible and easy to use cloud business management for financials, sales, service and analytics. Through advanced subscription renewal management, CHOICE is able to better manage its subscriber base and enhance its customer service through a single view of each customer record across multiple platforms (print, online, mobile and tablets).
Established in 1960 in Sydney, CHOICE is an independent publisher of consumer information and the public face of the Australia Consumers' Association (ACA), a proactive consumer advocacy group. Funded wholly by subscribers, CHOICE reinventing itself for the digital age has been paramount to its business roadmap. As part of this strategy, the not-for-profit organisation has launched multiple new digital products to offer greater value and readership options to its 175,000 subscribers. CHOICE's previous on-premise business solutions did not provide the flexibility and real-time reporting needed to support the transition to digital, so they switched to NetSuite based on recommendations from independent consultants.
"We had no integration between our subscriber database and our financial systems before switching to NetSuite," said Steven Macdonald, ICT manager for CHOICE. "Not only were we losing a lot of time manually processing data to prepare our financial statements at month end, it was also highly inefficient. We hired consultants to come up with a solution, which resulted in NetSuite's integrated cloud business management suite that delivers complete visibility into our business, as well as automated processes."
"We needed to move into the digital age quickly or risk falling by the wayside to the plethora of free review sites that are widely available on the Web," said Vivien Power, finance manager for CHOICE. "NetSuite has given us real-time visibility of our customers and financials, which mitigates risks for a publishing company. Additionally, we can now easily get an in-depth view of our data to see how our business is performing, analyse emerging trends and even test the viability of new business products before we launch them."
Switching to NetSuite after a decade on its existing systems proved relatively pain free, with extensive training and change management services provided to CHOICE's employees before going live.
"Change is never easy, but our team took to NetSuite in very little time. It eliminates manual data processing, which has freed them up to focus on being quality controllers searching for and fixing data exceptions," adds Macdonald. "They are also more productively adding value to other parts of our business. That's a good position for us to be in!"
"NetSuite has a long history of working with media brands that rely on our integrated subscriptions and finance tools to have a single, real-time view of their customers and business," said Mark Troselj, managing director of APAC for NetSuite. "NetSuite gives the visibility and support that are vital to helping consumer advocacy groups like CHOICE remain strong and independent voices in a digital age."
Today, more than 12,000 companies and subsidiaries depend on NetSuite to run complex, mission-critical business processes globally in the cloud. Since its inception in 1998, NetSuite has established itself as the leading provider of enterprise-class cloud ERP suites for divisions of large enterprises and mid-sized organisations seeking to upgrade outdated client/server ERP systems. NetSuite excels at streamlining business operations, as demonstrated in a recent Gartner study naming NetSuite as the fastest growing top ten financial management systems vendor in the world. NetSuite has continued its success in delivering the best cloud financials/ERP suites to businesses around the world, enabling them to lower IT costs significantly while increasing productivity, as the global adoption of cloud is accelerating.
Follow NetSuite's Cloud blog, NetSuite's Facebook page and @NetSuiteEMEA Twitter handle for real-time updates.
For more information about NetSuite, please visit www.netsuite.co.uk.
NOTE: NetSuite and the NetSuite logo are service marks of NetSuite Inc. Third-party trademarks mentioned are the property of their respective owners. The use of the word partner does not imply a partnership relationship between NetSuite and any other company.