NetSuite perfects planning for organisations across industries
New Integrated, Industry-Specific Planning and Budgeting Cloud Services Give Customers Instant Visibility into Performance and Facilitate Real-Time Decision Making
SUITEWORLD 2019, LAS VEGAS, Nev.—April 2, 2019—To give customers instant visibility into performance and facilitate real-time decision making, Oracle NetSuite today announced a new planning and budgeting cloud service that is integrated within NetSuite. The new SuiteSuccess for Planning and Budgeting Cloud Services are industry cloud solutions that enable organisations of any size to implement a world-class planning and budgeting solution that tracks performance against real-time planning and is tailored to their distinct industry requirements in as little as 30 days.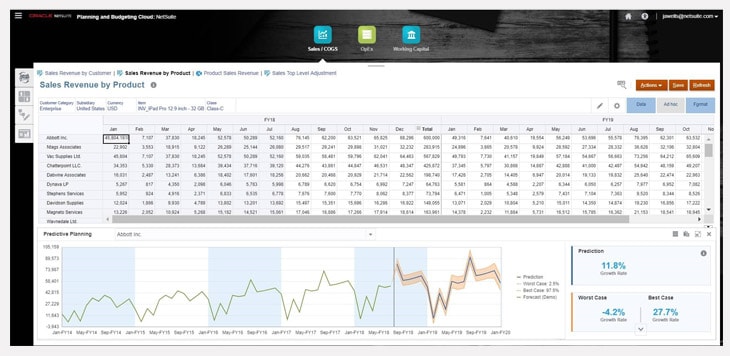 "The pace of business today means that planning can no longer be solely based on historical data or generic, one-size-fits-all templates and instead it needs to be a living and breathing process that is integrated into daily operations, designed for distinct industry use cases and constantly updated with real-time performance data and insights," said Gary Wiessinger, SVP of Product Management, Oracle NetSuite. "To meet this demand and help organisations of all sizes improve decision making, our new Planning and Budgeting Cloud Services are integrated within NetSuite and include leading practices and models that are purpose built for individual industries. This combination clearly sets it apart from competitive solutions and enables our customers to achieve faster time to value."
The new Planning and Budgeting Cloud Services (PBCS) integrate planning and budgeting capabilities within NetSuite and support all market segments with starter editions and extended capabilities for larger organisations. This enables organisations of all sizes to facilitate company-wide and departmental planning with modeling capabilities, approval workflows and reporting within one collaborative and scalable solution. With PBCS, customers can gain immediate insights into the state of business plans by using intuitive and easy-to-create dashboards and reports that are instantaneously refreshed using in-memory calculations and fast aggregations. This enables customers to improve:
Forecasting: PBCS enables customers to forecast for complex business what-if scenarios by using ad-hoc scenario modeling, sandbox and predictive features.
Collaboration: PBCS enables customers to collaborate across the enterprise or with specific groups of users using data-driven, dynamic approvals powered by a state-of-the-art workflow process.
Planning Models: PBCS enables customers to define planning models for a specific line of business or create unified models for the company as a whole.
Navigation: PBCS enables customers to create navigation flows that are tailored for groups of users based on their usage needs. For example, sales planners, expense planners, financial analysts, executives, etc. can all have their own navigation flows.
PBCS is available in seven industry editions, including warehouse distribution, manufacturing, marketing and advertising agency, software, retail, services and nonprofit. It is part of SuiteSuccess, a unified and pre-configured industry cloud solution that is built on industry leading practices. By combining deep domain knowledge with pre-built KPIs and dashboards, SuiteSuccess helps customers achieve the benefits of the cloud in as little as 45 days.
About Oracle NetSuite
For more than 20 years, Oracle NetSuite has helped organisations grow, scale and adapt to change. NetSuite provides a suite of cloud-based applications, which includes financials / Enterprise Resource Planning (ERP), HR, professional services automation and omnichannel commerce, used by more than customers in countries and dependent territories.
For more information, please visit http://www.netsuite.co.uk.
Follow NetSuite's Cloud blog, Facebook page and @NetSuiteEMEA Twitter handle for real-time updates.
About Oracle
The Oracle Cloud offers complete SaaS application suites for ERP, HCM and CX, plus best-in-class database Platform as a Service (PaaS) and Infrastructure as a Service (IaaS) from data centres throughout the Americas, Europe and Asia. For more information about Oracle (NYSE:ORCL), please visit us at oracle.com.
Trademarks
Oracle and Java are registered trademarks of Oracle and/or its affiliates.
Safe Harbor
The preceding is intended to outline our general product direction. It is intended for information purposes only, and may not be incorporated into any contract. It is not a commitment to deliver any material, code, or functionality, and should not be relied upon in making purchasing decisions. The development, release and timing of any features or functionality described for Oracle's products remains at the sole discretion of Oracle.